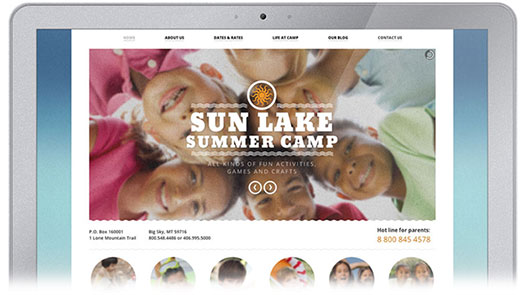 Your website acts as your online business card!
When someone lands on your site are they welcomed by a fun, attractive, and engaging design, or is it a hard to navigate, jumbled mess?
When it comes to online marketing, your homepage is the doorstep to your company. The more intriguing & different, the better experience your visitors will have. You want them to make return visits, just to see what you've been up to.
Not only will your site be beautiful, but it will stretch the imagination in directions you wouldn't think possible. Ignore the ordinary and team up with us to create something extraordinary.
We sit down with each client, and really get to know them as individuals. That way, when we build the site, we can customize it to be a digital image of your personality. Your favorite colors, shapes, or quotes. By making each site an extension of the client, we ensure there is never any duplicates!
Your site will be a one of a kind and something you, the owner, will be proud of.
In addition to design, we will show you how to manage your site, and teach you how to make simple changes like uploading a blog post or swapping out images. Our service takes the guess-work out of getting online! It's your dream site, we're just going to make it a reality. Web design is something that, in order to be successful, requires a personal touch.
We want your site to reflect your personality!
Our 100% custom design services and development includes:
– Mobile responsive design which creates a better viewing experience for the end user on mobile devices and tablets
– CMS (Content Management System) training/instruction so you can make updates as needed
– On-site SEO (Search Engine Optimization) selecting keywords that best fit your industry
– Code & Scripting using WordPress CMS, HTML5/CSS3, JavaScript, Jquery, AJAX, and PHP
Some of Our Past Designs