Podcasts are an incredible tool for establishing solid long-term engagement with your customers. They allow the unique personalities within a business to surface, and develop a bond of trust through social insight and active storytelling. Technology has made the action of producing a podcast easier than ever!
If you're in the B2B realm, you'd be interested to hear that The Harvard Business Review reported "22% of B2B of marketers said they used podcasts as part of their content marketing strategy in 2014." Today, futuristic and idea driven business owners are producing more content across a broader spectrum of channels. One of these channels increasing in popularity happens to be Apple's audio powerhouse iTunes.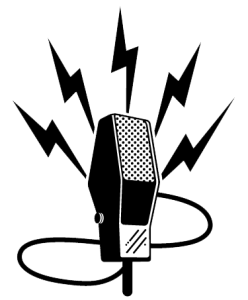 Factbrowser.com reported that in 2013, "45 Million consumers used iTunes each month" to search, listen, download, and share on-demand digital content. I'm sure you've seen people with their ear buds on at the gym, in the car, on the bus, or while walking the dog. The chances are pretty good that they are listening to some form of online audio.
Why can't the message they're digesting be yours?
Podcasts attract a different type of follower than print advertising or email marketing. Many people have said that they have never read a business's latest mailer, but instead have connected with a business through a podcast. Imagine having the ability to reach your target audience with a message that educates, inspires, motivates, and moves them towards a sale or registration?
More and more non-profits are realizing the impact a weekly or monthly podcast can make on their donations. The old adage is "the more you tell, the more you sell." The airwaves are jam-packed with content that will distract listeners from your intended message. But, the internet has offered you a space free of distractions, and a less invasive setting for you to engage with those who matter most.
Your customers, clients, members, or fans.
We understand that your time is in high demand. That's why we made our podcasting service offerings simple, and fast! Using both our in-house recording studio, and programs such as Skype and Google+ Hangouts, we work with our clients to schedule a recording when it fits within their schedule.
The process starts with an idea or vision of your target audience. From there, we construct a simple website used to house your episodes, and make them available to the public via links, social sharing, and email. Each episode can be as long or as short as you'd like, but we recommend no longer than 45 minutes. People tend to consume podcasts on-the-go, and often stop once they reach their destination. Our audio technician will work to create what's known as an intro and outro for your broadcast. Your site feed with then be uploaded to iTunes, and available for instant download on all Apple devices. Finally, we engage the talents of our graphic designers to create artwork used to promote your show.
Having the ability to continue the conversation with your customer outside of your storefront is priceless. Too often the message is halted when they leave your door, and you're left standing there with so much more to say. Imagine if you could provide them with a link to a podcast that you recorded which answers their questions in depth, and offers the customer more information and education prior to making a purchase.
Podcasting is just another way to communicate with your audience. You've invested in newspaper ads, radio airtime, and TV, now is the time to see what podcasting can do for your business.