Spring is in the air! Smiling faces flood the streets. Storefronts are animated with new merchandise, and smudge marks from tightly pressed noses appear on the glass. Commerce is in full bloom. Curb sides are now equipped with bicycle racks, and water filled dog bowls for your thirsty companions. Outdoor seating draws people in, looking to catch up on an unfinished book, flip through the glossy pages of a fitness magazine or engage in life changing conversation with long-lost friends. Everyone is involved in the experience. A boosted economy ignites the feeling of ownership in this small town community. Clinton is once again witnessing the beauty associated with a thriving and full of life local business atmosphere.
Last night, January 8th 2013, I attended a city council meeting. The audience reached maximum capacity resulting in the setup of a video feed in the first floor conference room. The room was packed with passionate men and women that shared a similar vision as I described above.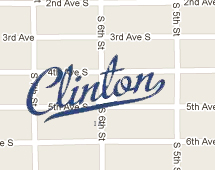 My short preview of Clinton as I drove through for the first time a little over a  year ago ,was that of a town which possessed an insane amount of potential! It reminded me of growing up in my small hometown located along the Schuylkill River in Pennsylvania. The commonalities were welcoming because I was now going to call Clinton, IA home. My short stay here has revealed layers of individual personalities, desires and passions. I've met people who want nothing more than to see the streets of Clinton stay the same, and are desperately trying to avoid change of any kind. But I've also met and engaged with several men and women who are devoted to labeling their town as a "must stop" location on a traveler's map.
The crowd at last night's council meeting was there to support the renovation and transformation of one of our historic landmarks. The Wilson building, located on 5th Avenue, has been sitting vacant for long enough. The plan is to convert the upper floors into market rate apartments, and the bottom level into space for retail businesses.
If you absorb the mindset of progression, you will quickly understand just how pumped and excited I am that my outlook for this community will become a reality. It's time to reduce our number of closed signs, and resuscitate a local economy that is basically running on life support. While the Wilson building renovation is a step in the right direction, it will take all of us acting as a united front to support the overall development and revitalization of Clinton.
3 things you can do to ensure Clinton, IA thrives in 2013
Get involved
Famous author and leadership expert John Maxwell said it best when he stated that each one of us influences at least ten thousand people within our lifetime. So it's not a matter of who you will influence, but how you will influence them. Your voice is essential to our growth. Don't hide behind the walls of your house, and vocalize your complaints on deaf ears. Take the time to attend council meetings. If not to speak, just to listen and educate yourself on the common problems that affect our everyday lives. Taxes, utilities, community assets, and economic development are all discussed in detail. Consider this your formal invitation to become involved. I know your voice will be accepted because you are a citizen of Clinton, and your opinion is valued. I look forward to seeing you at the next meeting!
Shop local
The impact that is observed when you choose to invest your hard-earned money within the city limits of Clinton can not be over emphasized. Shopping local is not just a trend, it is a necessary component of any structured economic growth plan. I do agree that both prices and convenience play a huge part in your decision to buy from larger department stores. I'm not advising you to stop taking advantages of their discounts and price points that a local business may not be able to compete with, but what I am asking, is that you make a conscious effort to support local businesses that offer the product or service that you are in need of. Those business owners are passionate about ensuring that you receive the best possible customer service. They continue to understand the importance of a well deserved smile or a timely birthday greeting. Build a relationship with the entrepreneur that experiences the same struggles that you face. They may be your neighbor, go to the same church or graduated from the same high school. You have a connection, and a link that can't be broken. Help support their dream and your loyalty will be acknowledged and rewarded.
Build a network
Since the dawn of time, small circles of like-minded men and women have successfully molded this country into the greatest nation on earth. Their viral influence on community decisions is amazing. One might think that their inclusion in a particular circle is only a result of their lineage, or business connections. The truth is, most of the influential people in this community inserted themselves into these small bands. They joined local organizations such as Kiwanis, Rotary and the Lions Club. They selflessly volunteered their time, and became involved. Their efforts did not go unnoticed. The community embraced them, and they became a linchpin. Their presence was requested at local events, and their vision was always shared. A lot of hard work, and countless hours earned them a starting position on the winning team. You have what it takes to make a difference. You just need to let people know that you exist.
We are moving in the right direction. If you call Clinton home, you need to invest your time and interest into the development of this great city! Take advantage of the opportunities that are available, and embrace the concept of change.
It is inevitable.
Restlessness and discontent are the first necessities of progress" ~Thomas Alva Edison
~Andy
 ###
If you can't already tell, I am super stoked about living here in Clinton, IA! I was welcomed with open arms from day one. When I left the military, I was in desperate need of some camaraderie, and a sense of belonging. Clinton did a great job filling that void. I hope to raise my family, and learn to flourish with all of you by my side. ~Andy