As Seen In the May Issue of Selling Travel Magazine!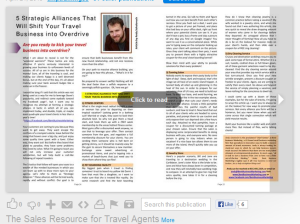 Are you ready to kick your travel business into overdrive?
What I am about to reveal is not for the "weekend warriors!" These tactics are only effective if you're seriously interested in growing your business to unforeseen levels of success. All of us are in this business for the money! Sure, all of the traveling is cool, and making our clients happy is a well deserved bonus, but at the end of the day, it's all about making sure your bank account bulges like a soda can in the freezer.
I would be lying if I said that this article was not being used as a way for me to leverage Steve's popularity, and redirect some eyeballs toward my Facebook page (https://Facebook.com/BentBusinessMarketing), but I want you to recognize my attempt at forming a strategic alliance. A tactic in which all of you can implement today, and double, triple, or maybe even quadruple your travel clients in less than a year's time!
Your customers are coming to you because they want to get away. They want to escape the confines of a cramped cubicle, leave behind the smog that hovers over a big city, and just enjoy some quality time spent with a lover. Either way, they want out! But before they board that plane to paradise, they have some problems they need to solve. What I'm going to teach you will not only increase your customer satisfaction, but will help build a cult-like following of repeat travelers.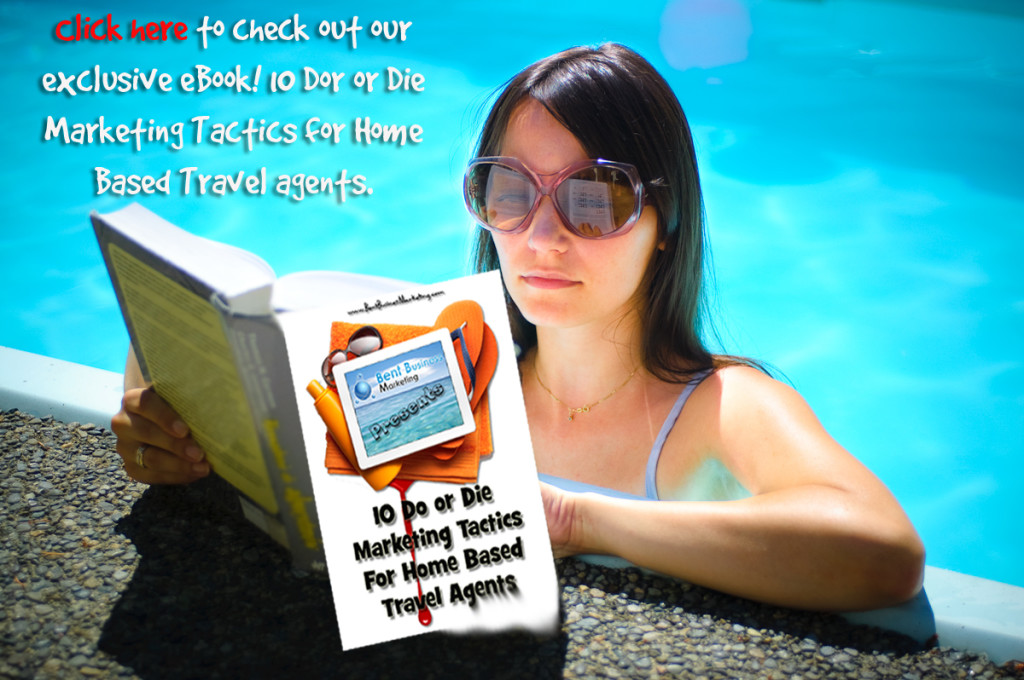 The 5 tactics that follow will open your eyes to a wealth of like-minded businesses in which you can team up with to draw more eyes to your agency. Let's refer to them as "Strategic Alliances." These alliances will be formed easily, rapidly and without conflict. Our goal is to ensure that both businesses benefit from this new-found relationship, and not one receives more than the other.
On your path to massive alliance building, you are going to hear this phrase…
"What's in it for me?"
Be prepared to answer swiftly! Nothing will kill the deal faster than a selfish response to a seemingly selfish question.
Ok, here we go!
5 Strategic Alliances That Will Shift Your Travel Business into Overdrive
1) Fitness Centers
What is the single most radical thought a man or woman has prior to departing on their tropical vacation? Looking great in a bathing suit! Married or single, they want to look their absolute best. So why not give them a head start, and hook them up with a FREE week membership to the areas hottest fitness center. Most gyms offer a discounted week anyway, so use that to leverage your offer. Then contact someone from the gym, and negotiate a full membership discount for your clients. You are sending them someone who is hell-bent on getting skinny, so it should be insanely easy for the gym to secure themselves a new member. Exchange some sweet advertising or promotional items, and you're tapping into a market of beach-bums that just need you to show them where they can flex!
2) Pet Boarding Facility
My biggest pain when I travel is finding someone I trust to board my yellow lab Danni. I love that mutt like a daughter, so I want to make sure that she is treated like royalty. Do some research and find the best boarding kennel in the area. Go talk to them and figure out how you can best benefit from each other's services. Once you hash out a deal, I want you to get a picture of your pet framed, and place that bad boy on your office desk, right up front where your potential clients can see it. If you don't have a pet, buy a frame and slap a picture of any dog you find on Google images! You want to use it as a conversational piece. While you're typing away on the computer looking up rates, your client will comment on the picture. Once they start talking about their pets, I want you to present them with a highly attractive coupon for the area's best boarding kennel!
Blow their mind with your ability to provide solutions for their every problem!
3) Tanning Salon
Nobody wants to expose their pasty body to the light of day!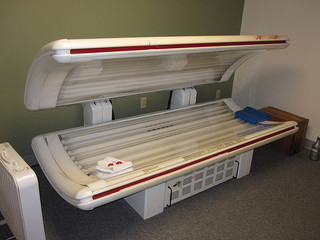 Deep, dark and tropical, that's the image we all have of an exotic island hopper. A tanned body all oiled up and glistening in the heat of the sun. In order to prepare for our upcoming dose of UV rays, we need to build our base. To build our base, and avoid burning, we go tanning. Just like in the two examples above, research a salon that suits your client's needs and form the alliance. Create a little pamphlet that describes the painful results of bad sunburn, and how to treat it. Now hand that out to all of your clients who are headed to sunny paradise, and prompt them to use caution and only expose their sun deprived skin a few hours each day. Attached to that pamphlet, have a coupon for a discounted tanning package at your chosen salon. Ensure that the salon is displaying some reciprocated benefits to doing business with you, and everyone wins. No sane person is going to stay indoors when on vacation! If a nice base tan allows them to see more of the island, they'll quickly take you up on your offer.
4) Jewelry Store
Here's a popular scenario, Bill and Jane are traveling to a destination wedding in the Caribbean. Jane's sister Alice is the bride to be. Jane and Alice have always been in competition, and now they will inevitably have wedding rings to compare. In an attempt to give her ring that extra sparkle, Jane takes it in for a cleaning before the trip.
How do I know that cleaning jewelry is a common practice before taking a vacation? My wife worked in a jewelry store, and when she found out that I was authoring this article, she was quick to reveal the draw dropping amount of women who came in for cleanings before they departed. An untapped alliance that I never thought of forming! Now all you have to do is be on the lookout for massive rocks on your client's hands, and then slide over a coupon for a FREE ring cleaning!
5) Dry Cleaning Service
Cruises and destination weddings require you to pack some type of formal attire. Whether it is a suit, tuxedo, cocktail dress or full blown gown, all of these garment selections need to be dry-cleaned. Find the dry cleaning service around your area that provides top notch service with a fast turn-around. Once you find your new wrinkle wrangler, present a discount coupon or freebie to your clients. Again, we are aiming to satisfy their every need. Go above and beyond the service of simply planning a vacation, and leave nothing for the conscience to dwell on.
I could come up with a dozen of these examples, but for the sake of brevity, I'm going to wrap this article up. I want you to always be on the lookout for new ways to promote your services. Not every alliance you form will be a home run, but you never know when you will come across that single connection which will yield massive results.
Build your business like a spider web and catch more flies. But instead of flies, we're talking clients!

P.S. We offer FREE 30 Minute consultations! In person, Skype, phone whatever works for you.
Let us help market your genius! ~Andy