Rosser Reeves stated in his famous book, Reality in Advertising, that each advertisement must make a proposition to the consumer. Each must say, "Buy this product, and you will get this specific benefit."
Every car seat is built to safely secure your child in the event of an accident, every pair of running shoes is advertised as having the "latest in sports footwear technology" and every pair of sunglasses is promoted as having the ability to protect your eyes from harsh UV rays given off by the sun. But the following examples all lack a benefit which differentiates their product or service from those sold by the competition.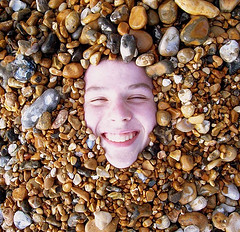 In a crowded industry such as the Chiropractic services field here in Clinton, IA, you have to narrow your focus on a benefit that is completely different from all other providers. In business, it is safe to say that you never want to be one of many; you want to be the best of the few. Position yourself as offering a service that is not only exclusive, but sought after by a specific niche of consumer.
There are several ways in which you can harness the power of being different, and load the hopper full of new customers who all want what you have!
 6 Ways to Differentiate Yourself from the Competition
 1)      Highlight a single step in an everyday process
Claude Hopkins was able to successfully advertise a particular brand of beer, which in the brewing industry, was doing nothing different. Claude acknowledged the fact that there was nothing special about their process, but he was also quick to notice that none of the competition was describing in detail this seemingly ordinary method for for sanitizing the bottles. He started taking notes, and built a vivid description around the extensive steam cleaning process used on each bottle before the beer was added.
He told a story!
By highlighting, describing and bringing to life your everyday actions, you are creating a vision of professionalism and expertise. Never take for granted a single step in an unoriginal process. Just because it seems mundane to you, it might really be intriguing to the consumer!
 2)      Nobody else can be you
 Today you are You, that is truer than true. There is no one alive who is Youer than You." ~ Dr. Seuss
You were born unique. Start focusing on yourself as a brand. Your personality, education and life experiences should all be included in your quest to stand out in the crowd. Take myself for example. I'm a marketer, I am one of hundreds of thousands in this country, but my story is what makes my services different! I was able to use my military background as an Air Traffic Controller, and develop a story around my heightened attention span. As a controller, making mistakes is not an option. Lives are at stake, and perfection in that industry is a requirement. My militant work ethic allows me to continue the grind when normal marketing professionals would flat out quit. My high level of management training allows me to focus a large group on a single common goal.
My abilities are unmatched in my chosen career field!
I have set my self apart from the competition by simply telling my story, and revealing the skills embossed on my character from my experience in the service.
3)      "Specialize" in something
Every business which you consider to be a "competitor" could be selling the same products or performing the same services, but how many of them refer to themselves as "specialists?" If you have perfected a task, no matter how simple, it is completely accurate and justified to refer to yourself as a specialist.
Say I sold garden rakes, and I was one of a hundred businesses in a twenty-five mile radius who sold garden rakes. Now since I've been selling rakes for almost two decades, I have seen every innovation, upgrade or change made in the rake industry. From wood, to aluminum to models designed so the user maintains a healthy posture while raking, each one of these has their own unique pros and cons, and I know them all! Do think it would be safe to refer to myself as the "Rake Expert or Specialist?"
Absolutely!
I've earned that distinction, and now I will use my new found title to set my self apart from the other 99 rake salesman in the area.
Andy "The Rake Expert"…I like the sound of that!
4)      Share your vision
Every business has a vision or goal for their future, and every business pursues that goal for different reasons. But not every business shares their vision with their customers!
Imagine if you were to sit down and draft a simple vision statement for your venture. Nothing insanely complicated, just a few sentences that described where you want your business to be in the next five or so years, and why exactly you are working so hard to get there.
Now, take your newly scripted vision and share it! Express to your customer how important of a role they play in your dream, and how, without them, there would be no chance for success to be reached. Make them feel like an individual linchpin that holds together every single critical piece of the business.
Provide them via email, social media, website or good old snail mail with updates. Progress reports! Treat them like a board of investors, and they will reciprocate your openness by becoming repeat customers, and spreading the word about the destination of your business.
5)      Educate the public

With so many choices in the market, educating your customers on the differences between a bad product and a good product (hopefully yours) is a must! If you choose to force them to do the research on their own, they might stumble on a competitors site that lays out all of the details for them, and has their products ready and waiting to be added to the customer's cart.
Start holding classes in your store. Attendance will be by invitation only so you can control the size of the crowd. Keep the number small and intimate. Remember, the now educated consumers will be sure to share their findings within their social circles. Start with the basics, and then cover the more advanced benefits.. At the end, present them with both a certificate of completion and a title.
A title such as "Certified Coffee Connoisseur" would work well for a local caffé looking to create a viral buzz around their brand.
Your customers have gone from being a credit card swipe to a full-blown marketing team overnight!
 A business who knows how to have fun, is sure to become well known in a short amount of time. Our world is full of seemingly bad news. Create a refreshing escape where you encourage people to laugh, while at the same time enjoying the benefits of what it is you sell.
 Doing business doesn't have to be boring!
 As the owner, you are in total control. If you choose to run the shop like a tyrant on a wicked power trip, don't expect to draw a massive following of loyal customers.
 Learn to love what you do, and having fun doing it will easily become second nature.

P.S. You're awesome! Always be productive and never stop believing in yourself. ~Andy
 photo credit: Bill Gracey via photopin cc photo credit: floato via photopin cc