*My apologies! This gentleman's birthday fell on the 5th of July, and due to an internet issue, I am only able to post this greeting today, the 8th of July. ~Andy #themarketingguy
If he was alive today, what would P.T. Barnum do to explode his brand awareness, and capture the eye of the public?
My guess is that the master showman would harness the power of technology, and leverage every form of media to share his message. But he wouldn't simply build a Facebook page. No, Phineas Barnum would change the entire game!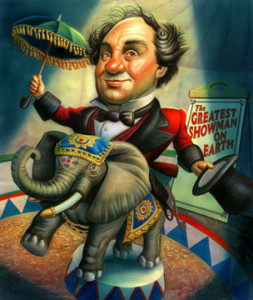 His genius would be slammed into overdrive as he took full advantage of video, podcasts, live seminars, direct mail, webinars, Ebooks and of course his old bread and butter print advertising. P.T. Barnum was unlike any business man whom ever graced this planet with his presence. Dubbed a showman, salesman, cheat, fraud, charlatan, man of faith as well as an icon, he never once shied away from the spotlight. His marketing efforts were transmitted across oceans and throughout the nation. An impressive feat considering during his reign, the railroad was a newly introduced slice of technology.
The act of marketing was unknown back then. Advertising via print was alive and thriving, but no matter what you referred to it as, Barnum was the master.
But how did he do it? How did he get his name into the homes of millions?
P.T. knew of one action which would forever hold true in the world of business.
As long as the customer's perception was that they had just received more than they had paid for, then Barnum's business would be booming. The most important thing to P.T. was the overall satisfaction of his customer. Very few businesses today are driven by that same desire.
The customer is ALWAYS right!
An unhappy customer should cut into a business owner like a knife. No matter the situation, you'll have to make peace with the fact that they are in charge. Without them, you would not be in business. Now don't misinterpret my message, I understand that you will never be able to please everyone, but your goal should never be to simply "deal with it." Your goal needs to be to ensure that there is never a chance that a customer will leave feeling dissatisfied.
Barnum would go above and beyond to make his "boss" feel valued. An acknowledgement by name, a Thank You letter or by becoming involved in the community in which he did business, he was constantly striving for their approval.
What have you done lately to let your existing customers know that they are your #1 focus?
In the cut-throat game of business, it is without a doubt the little things that matter. Before you search for that new product to add to your shelves, be sure to appreciate those who buy the stuff you already have. A happy repeat customer is worth far more than the single sale of a new gadget.
If you simply want to sustain your business, focus on the bottom line. But if you want to build an empire, focus on your customer!
"Whatever you do, do it with all your might. Work at it, early and late, in season and out of season, not leaving a stone unturned, and never deferring for a single hour that which can be done just as well now." ~P. T. Barnum

P.S. I highly encourage you to pick up Joe Vitale's book There's a Customer Born Every Minute: P.T. Barnum's Amazing 10 "Rings of Power" for Creating Fame, Fortune, and a Business Empire Today — Guaranteed!
It's a serious game changer! ~Andy