Question: "How do I best use Facebook to promote my business?"
#themarketingguy's reply: "If you provide your friends with an authentic reason to engage in your conversation by posting content that is worth sharing, commenting or "Liking," you'll have no problems attracting new sets of eyeballs everyday!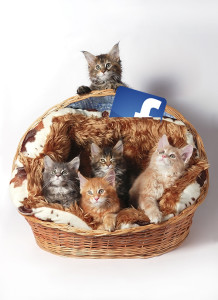 One way to generate some buzz around your page is to ask your fans to post and share their own content. Ask them to post pictures of themselves using your product, standing outside of your store, or a colorful image of that specialty dish they just ordered at your restaurant.
We all want to feel included, and social media has given us the ability to reach out to thousands using just a few clicks of the mouse! More and more brands are using Facebook shared images from fans in their advertising. How cool would it be to post images of your loyal followers on your next TV commercial or in store promotional material?
Use Facebook to prevent needless spending on products that won't sell. Use an image of a prospective gadget that you are thinking about adding to your inventory. Ask your fans if they love it or hate it. Gauge their responses and look for a high demand. If they hate it, you just saved your self some money. If they loved it, keep them on the hook by posting arrival dates, share with them the tracking information, express that supplies will be limited and get it while it's hot!
Before the introduction of social media, companies would spend thousands searching for a snip-it of customer opinion using focus groups, cold calls and other various forms of information excavation. But now, all you have to do is log on, share an idea andtrack the response.

Just be sure to make your content entertaining. No one logs on to Facebook because they are looking to spend money. They are there to simply have fun. If your brand catches their eye, make sure to hold their attention for as long as you can!
The social media officer for Southwest Airlines was quoted saying that her rule of thumb for social media was to…

Be honest, be real, be fun and be quick!"

P.S. Be sure to take part in the Bent Business Marketing conversation over on our Facebook page! ~Andy #themarketingguy