I don't know what's worse, the heat, or my inflated electrical bill!
Not only have these record temps zapped my motivation, but they also put a huge dent in my budget.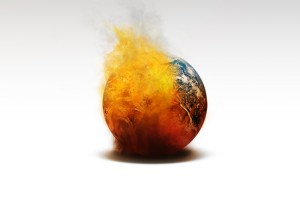 If you just felt "lazy" the last few months, you're not alone. With temperatures reaching the triple digits in most of the Midwest, it's no wonder that your customers are seeking refuge indoors. Maybe if you own an appliance store, this heat wave might have boosted your monthly sales, but the rest of this small business community has felt Mother Nature's wrath!
Intense heat has the ability to effect everything from your mood, to the way you approach tough decisions.
Do you find your self being a little absent minded? Forgetful? Irritated!?
When it comes to making large purchases, customers will be reluctant to spend any money, if it means spending more time outside.
A recent quote taken from the Huffington Post's Small Business Report stated:
"They(customers) don't want to waste money caring for their lawns when their lawns are burnt from the sun anyway," he said. "That doesn't help us financially. As much as I love the summer, we can spend a lot of time on customer service issues and problems that come with the heat, like insects and drought conditions." ~ Tom Norton, Owner, Lawn Doctor lawn care service
From lawn care to car sales, pinching pennies to stay cool has become a spiking trend. If it's between buying a new car, or ensuring the air conditioner stays on, I think we all know where the sacrifice will be made.
As new age small business owners, we should embrace this change in climate, and think of a way to leverage its vice-like grip on comfort.
Offer up some free Italian ice while your customers wait for their oil change, always have chilled water on hand in your office, let your employees wear shorts any day the temp breaks 90, or…
start a "Hawaiian Shirt Friday Party," and call it quits a few hours early!
Everyone is uncomfortable in this heat, and the best way to ease their pain, is to go with the flow.
I'm sure, just like me, you are getting tired of hearing the words "Boy it's hot out there!"
Don't join the masses and complain, find a way to gut it out and…STAY COOL.
###