Everyday someone approaches me with a question about building a website for their business.
They want to know if it's a smart investment, and can they get by without one?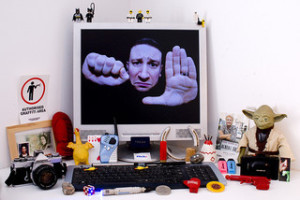 I make my money promoting web design for businesses that are looking to build their brand's awareness online. So my opinion might be a bit biased, but I will say that a business without a website is like advertising a bikini without a model. In an age where information is shared almost exclusively online, taking advantage of a piece of digital real-estate is not only smart, it is one of the best things you can do to promote your message.
A website acts as an icebreaker. Think about how many times you've accessed a company's website before you visited their location with the intention of spending money. We all conduct research before making a purchase decision. We scour the web for reviews, blog posts and anything that confirms the idea that our money will be spent wisely. Social media is a great place to start building your digital footprint, but if you really want your message to shine through the glare of impersonal Facebook and Twitter news feeds, you have to create a website.
Picture your website as home base. Everything you do online should stem from your site like a massive spider web of information. For instance, blogging has quickly become the most important ingredient in what the experts define as SEO (search engine optimization). SEO is just a cool way of defining your efforts that make it easy for customers to find you on the web. Hosting a blog on your website allows you to create content that is both informative, and keyword dense. Search engines look for words within your site that are considered relevant to someone's search query.
Speaking less like a geek, when a person types something into Google's search bar, Google will determine if your site matches what it is they are looking for. By placing keywords, or words that describe what it is your business does, you are increasing the potential to rank high in the search results. SEO sounds complicated, but when you break it down, it's a pretty simple concept. Blogging allows you to generate content that satisfies Google's hunger for up-to-date information. Every post results in fresh information which search engines love! From your website, you can link your social media profiles. Those links also boost your ranking in search engines.
SEO is a much discussed topic, and could take up the next hundred pages, but for the sake of brevity, please checkout this related post for more information.
Social media sites like Facebook have been getting more and more control hungry. They have started filtering your content. That means that less and fewer people are seeing your posts, images and status updates. Incorporating a social media strategy into your existing marketing plan remains one of the easiest and most effective tactics you can employ in order to get your brand found online. But, it should not be your home base!
Your customers are searching for you online. There is no doubt about that. In 2013, I would venture to guess that there are more phone books leveling out couches than being used as an informational resource. By building a website, you are taking full control over your online destiny. We live in an age where nothing is bought or sold without first conducting an online search.
Some of you reading this post might have found Bent Business Marketing by looking for me on Google. You may have simple typed in "Business Marketing," or "Digital Marketing." And as a result, you were linked to one of my blog posts, hosted on my website, which was packed with relevant keywords. You may even like what you're reading, and decide that we should team up and do business. Our relationship has now morphed into a professional connection that will generate revenue for me, and you will learn to embrace the power of digital marketing to grow your business.
I'd say that's a pretty sweet deal for all parties involved. You learn, I get paid, and my website acted as the bonding agent.
So back to the original question, and for SEO purposes, the title of this blog post, "Is A Website Necessary for My Business to Thrive in 2013?" The answer lies in the decision that you make as a business owner looking to invest in your future. Owning a website to conduct commerce, share information, or connect with your prospects is always going to be a solid investment.
If you choose to do without, your competitor's may be harvesting your customers. It's time that you start planning to find your voice, convey your message and let the world know why they should give do business with you.

###
If you are in the market for a website, or just want to bring your existing site up to 2013 standards, feel free to give me a call at 815.441.2219. I'd be happy to meet up, and show you all of the cool things you can do once you decide to take control of your digital success! The proverbial ball is now in your court.
Are you going to get in the game?
photo credit: the brownhorse via photopin cc