Yesterday, August 27th 2013, Facebook unplugged their massive wedgie, and are now allowing business pages to hold contests without having to use a third-party application.
Let me say that again in, less the geek speak.
Prior to the change, it was against Facebook's policy to hold a contest where the business page was offering a prize in return for a page or post Like. I know, a lot of that stuff was already going on all over Facebook, but in the event that the social media giant's mod squad would find you creating such a contest, they would inevitably shut you down.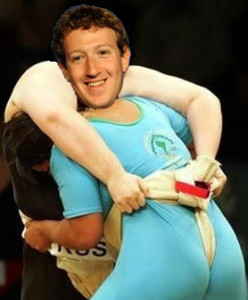 Using a third-party application, like Rafflecopter, was the only way you could hold a contest that resulted in a prize, without violating their policies. It was a hassle, and many business pages chose to flirt with disaster, rather than using one of the approved apps to promote their giveaways.
But after yesterday, it's apparent that Facebook was growing tired of playing deputy, and abolished that policy all together.
I am expecting the barrage of contests to become insanely noticeable starting now! But while offering something of value in exchange for a page Like is an awesome way to build your fan base, be very careful not to abuse it. I would limit your contests to one a month. Not only that, but I would make sure that whatever it is you are going to offer up as a prize, make sure it's totally worth their time. Now I'm not saying give every winner a new iPad, but be smart about the message you are sending.
Too many prizes given away, and at too little value, will promote the idea that your fans are simply a number of Likes on Facebook page. A monthly contest, with a prize awarded that is relevant to your business, tells me that you care about your fans, and want them to come back for more.
Your customers, whether in store, or online, are your most valuable asset. Treat them as such, and you'll have no problem building a huge following on Facebook.
Here are a few quick contest ideas that you could take, and apply to your page today!
Award for a milestone amount of Likes
Award the 1000th fan of your page with a gift certificate to be redeemed at your place of business. That way, the money is going right back into your pocket, the winner gets a new toy.
Everyone is happy.
Hold a contest that fits within the theme of your business
Own an art studio? Hold a contest where your fans can post pictures of their original artwork, and then narrow down the submissions to three to five, and let the winner be determined by the amount image Likes. Then award the victor with a place on the wall of your studio, and an opportunity to invite their friends and family to view their art. They'll be so stoked, that they'll invite the entire community, and your place will be buzzing with new life!
The best part, it will cost you next to nothing!
Allow your fans to submit endings to your book
Author? Have your fans submit some alternate endings to your latest novel. Since you don't want to read full chapters worth of Facebook posts, ask them to submit a short summary consisting of no more than 300 words. Then, have your fans vote to determine the winner. The winner then has the opportunity to submit a full chapter which you slap into your book, and acknowledge them somewhere in the print.
Just be sure you get them to release the ownership rights for their content.
Always be sure to look at the legal issues with any contest, especially if you are going to leverage the ideas of others to make yourself a profit. Just be smart!
I know I said this before, but I want to hammer home my point. It's going to be tempting to go crazy with the contests just to boost that ever so important Like count, but I urge you to slow down and think about the perception of your business long-term. Similar to the downfall of Groupon, if you are only known for your crazy giveaways, people will only interact with you online when you are offering a prize to do so.
The key to Facebook marketing is to keep the conversation going. Your fans need to interact with your page because they want to, and not only because they are going to win something.
A continual dose of valuable content, accompanied by a monthly contest, in my opinion, will yield some awesome results.

P.S. If you are within driving distance of Clinton, IA, you are not going to want to miss this! ~Andy #themarketingguy

Facebook for Business: A crash course in marketing your business on Facebook