Today, at a marketing workshop in Texas, I invested my last $50.
When our host explained, that any individual who was late returning from break owed $5 to the tardy fund, I promised myself to be back on time!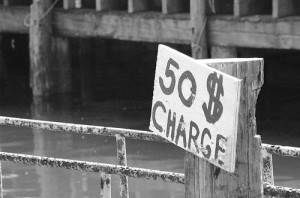 It was $5 for tardiness on day one, and $10 for days two & three.
With over 100 marketers in attendance, that little jar could turn into quite the prize!
Right before our first scheduled break, it was stated that the money would be given to someone in attendance to be used as an investment in their future ventures.
I was surrounded by successful marketers, who all possessed some form of genius!
What great things could they accomplish with that money?
Wouldn't it be awesome to invest in their vision?
Those thoughts raced through my head during the first thirty seconds of our short break.
As I stood there idle, just wasting time, I realized I wanted to be involved with everyone in that room!
They all were skilled at a craft that I wanted so badly to master, and they made it seem so exciting, and fast paced!
Just what I was looking for.
Soon my excitement vanished.
I surmised that, with all of this talent, I was going to be just another face in the crowd.
A forgotten attendee that simply took notes and paid attention.
It's day one, and I need to expose my talents, and my genius….
and I needed to do it fast!
I had an idea! I pulled my last $50 of travel money out of my wallet, and penned my email address on the back.
I walked up to the gentleman in charge and said:
After serving over a decade in the military, I will guarantee you that I'm disciplined enough to never be late. But, I'm sure over the next three days, there will be several that willingly contribute to the tardiness jar for their bad timing. I think it's amazing that you are going to give the money to someone looking to breakthrough, and make a name for themselves. I believe everyone in attendance is worthy of such a gift. They're all passionate, motivated, and looking to make a positive impact using local internet marketing. I want to add this $50 to the jar as an investment. Anyone here is capable of being the next superstar, and I want in!
He stared at me for a second, questioned my donation, and then told me that my actions were AWESOME!
So awesome in fact, when everyone returned, he made it a point to acknowledge me by having everyone stand up, and applaud my offering.
He also recognized my service to my country!
Day one, hour one, and I had just set the bar pretty high.
I stood out from the crowd!
I took a chance on greatness.
Maybe not my greatness, but greatness none the less!
That will turn out to be the best investment I ever make 🙂
Where will you invest your next $50?
###
We're slowly gaining some traction in social media.
We'd appreciate your vote!