As a marketing consultant, you would think that it would be easy for me to develop a clearly defined description of what I actually do. It's very important in business to develop a list of products or services that is easily understood, and directs the viewer to make a purchase decision.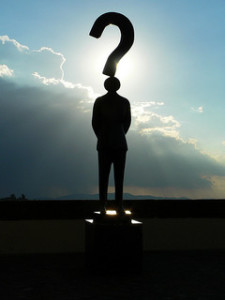 When it comes to my own business, I've failed! Everyday I get asked what it is that I do, and my response is usually morphed to fit the needs of the person asking the question.
That's a crappy way to do business!
My growth as a consultant is completely dependent on how well I'm perceived in the business community. Every success, gain, or positive experience results in a satisfied customer that will be willing to promote my services word-of-mouth. If nobody knows  how my services can help their business, then there is zero chance that I can make an impact, and continue to grow at a rate that's acceptable for long term professional existence.
Being a passionate marketer that's looking to rock small business development in Clinton, IA, feels a lot like being Patrick Swayze in the movie Ghost. Not the sappy pottery wheel scene, but the part where the crazy killer guy is coming into their apartment to get Demi Moore. Pat's going crazy trying to figure out a way to get her attention, and warn her about the unwelcome intruder. As a ghost, his voice isn't heard, his physical touch isn't felt, and his warnings go completely unnoticed.
It's crazy frustrating, but the confusion that surrounds my profession is all my fault.
If you've ever tried to monetize your passion, then you know how much of your heart and sole gets dunked into your business. You develop such a close relationship with your new found venture, that you hate to diminish your efforts by summarizing your offerings into a quick one to two sentence description. A quick blurb that explains everything you do, and results in very little questions at the end.
Your dream is so much larger than that, and you yearn to recite a page long epilogue filled with fun adjectives and exclamation points! But your listeners may not share your passion. If they did, they would probably be competitors, and not prospects.
No matter how much you want to fight the need for a simple, short, and easily understood explanation of your product or service, you'll quickly find out that your long winded response leads to a massive amount of confusion.
That's why I decide to author this post. I am going to reveal to you the brand new response I created in order to satisfy the curiosity for what it is that I do, and how my knowledge can help take you business to the next level.
(random prospect) "What is it that you business does Andy?"
(Andy) "Bent Business Marketing is Clinton, IA's only consulting firm that specializes in creating innovative marketing strategies that increase your return on investment. Our success is based on our ability to leverage technology for maximum exposure, which results in an influx of repeat customers & FREE word-of-mouth advertising for your business, event, or organization."
Or
(Andy) "We get you found on Google!"
I'm undecided. But The second option is pretty easy to spit out!
With the average person only giving us ten seconds of their undivided attention, it's a good thing I was able to shorten that up!
You know the saying, "the mechanic is the one that always has a broke down card."
This proves true in my case. It's time I started practicing what I preach, and concentrate on my own business.
Do you think it's time you did the same?
~Andy
###
A little identity crisis plagues all new businesses from time to time.
The best thing to do, is to recognize it fast, and make changes to clear things up.
Follow us online as our true identity reveals itself!
Follow us on Twitter & Like us on Facebook.
photo credit: Marco Bellucci via photopin cc