Your network is a powerful tool!
But in order to get the most out of your social circle, list of contacts, community influencers and die-hard doers, you'll have to learn what NOT to do when taking the necessary steps toward building your unsinkable network.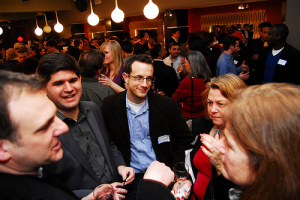 In this presentation, I'll tell you exactly what to avoid when presented with the opportunity to introduce yourself to new people (I'll even reveal my proven effective secret sauce!).
The best part is…you don't need to be a social butterfly or have massive amounts of charisma in order to be a top-notch networker.
By avoiding these five simple yet off-putting actions, you'll start building a web of contacts full of people who you can help succeed…
And in return, will also be excited about reciprocating the favor!
Over the next 13 minutes and 35 seconds, I'll cover topics like:
– Selling at a networking event
– Providing your job description
– Handing out business cards
– How not to fake the funk
and of course as mentioned above, the recipe for my "implement immediately" secret sauce!
Having the ability to call on people when you need help acts as a lifeline when your business falls on hard times. People genuinely want to help you succeed, but in order to start weaving this proverbial safety net, you'll have to get out there and make yourself known within the community.
This presentation will give you both the security and peace of mind knowing that you're doing it right!
Thanks again for taking the time to view this presentation. I work hard to ensure that you are provided with solid information that will make your life easier.

P.S. I'd love to present this class to your local Chamber of Commerce, Lions Club, Kiwanis, Rotary or any professional group focused on making solid contacts and friendships!
Simply give me a shout and we can work out the details. ~Andy
photo credit: TechCocktail via photopin cc