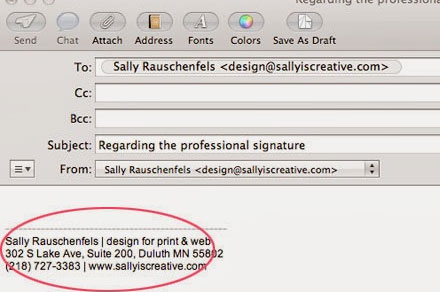 What does your email signature block look like?
If you're like most people, you're sticking with the widely accepted; first name, middle initial, last name, followed by your duty title, telephone number and email address.
And there's nothing wrong with that! You want to make sure that the recipient of your message knows how to get in touch with you.
But why not create a signature block that does more than just act as a RolodexTM?
Why not use it to sell yourself?!
Your business offers a great service and amazing products, but listing your wares and offerings in your signature block would look dumb and cluttered. If only there was a place where you had all of your information listed including images, videos, product updates and some awesome educational content that really represented your business's core values and worth!
Introducing Facebook.com! That crazy little social media site that has captured the lives and eyeballs of over 1 Billion subscribers. You may have heard of it. If not, it's time to crawl out of the cave you've been holding up in, and realize how this new world communicates.
Point your email recipients to your Facebook page by simply adding a click-able link to your signature block. For example:

Ask yourself how many emails you send a day. How cool would it be if even half off of those emails were followed up by a potential client, customer or business associate landing on your Facebook, YouTube or LinkedIn page?
That's a ton of information wrapped up all sexy in a short signature block! Now don't get all "link crazy" but use that space to your advantage.

P.S. For more awesome email tips and tricks, subscribe to our weekly email by filling out the information on the top left corner of this page. We'll send you the best of our babble every Tuesday at 7AM CST! Thanks ~Andy #themarketingguy