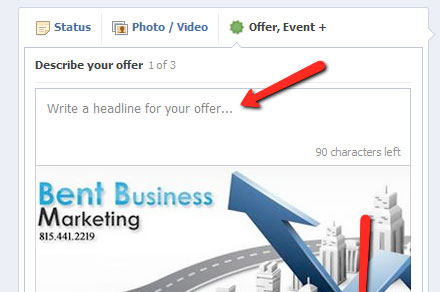 Are you using Facebook Offers to promote you next big sale?
Facebook Offers allows you to reach out to a broad audience, and promote your in-store or online discounts. Since EVERYONE uses Facebook, why not target your offer right where you'll know your customer will see it.
Here's how it works:
In the same box you type in to author a new post or share a photo, you should have a tab visible that says "Offer, Event +" Just like in the image below. Facebook Offers are an exclusive feature to Facebook Pages, not personal profiles. If you setup your business Facebook site as a person (i.e. First Name "Bill's" Last name "Steakhouse") well…you're out of luck. But most of you should be good to go, so let's move on!

Once you click the Offer tab, you'll be presented with these options.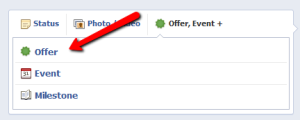 Click on the offer tab.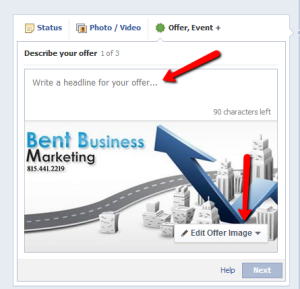 Next you will be asked to author a headline for your sales or discount offer. I would use the traditional, "25% Everything (or specific product) In-Store LIMITED TIME ONLY!" or something similar. You can also change the image to one that depicts your product or storefront to increase customer awareness.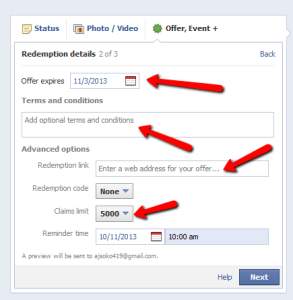 Now the fun stuff! Select the expiration date for your offer. Remember, give your fans and online audience some time to see the offer and take advantage of the deal. Next, be sure to detail the terms and conditions of your sale. If there's a specific brand that is sale exempt, note that information in this box. If you're housing a coupon on your website, be sure to include the link to that page. If you want to limit the amount of customers who can redeem the offer, be sure to change that number from the default setting of 5,000.
In my experience, creating a lower number results in a more aggressive customer response. This is due to the fear of loss we all have when presented with an offer that we simply can't refuse.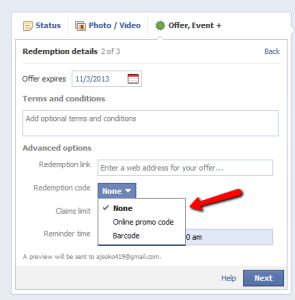 If you click on the redemption code option, you will be able to create a specific code or keyword to be used at online checkout.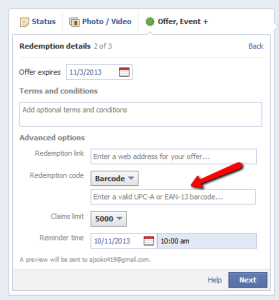 If your offer is in-store, you can include the sales barcode number. This allows the cashier to simply input the barcode digits, or scan the barcode when shown the offer on a customer's smart phone or tablet.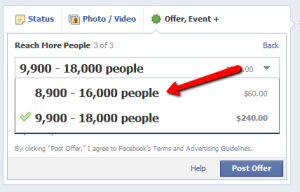 Obviously, Facebook is not going to give you this awesome tool for FREE, so you will have to select a payment amount. Start with the lowest value and se how it works. But compared to a single-run print ad, the cost is reasonable.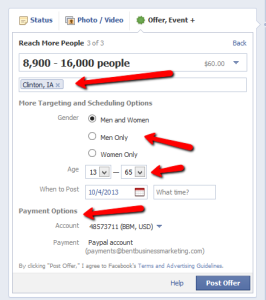 Target your audience using the city in which the offer is located. For example, if I was promoting an offer for a business in Clinton, IA, I would make sure that Clinton is selected. You can also branch out to neighboring cities to increase exposure geographically.
Select whether or not this offer will be presented to both men and women, or exclusive to a gender. Now select your desired age range. If you are selling a product that may not appeal to men in their 60's, then exclude that age from your selection.
 Pick the date and time you want to start your offer.
Ensure that the funding source you've set up with Facebook billing is correct. You can setup a payment method using either a credit card or PayPal account.

Finally we can post our offer! Just click the Post Offer button and you're good to go.
Be sure to track your offer using Facebook's Analytic data, and brief all of your associates that you are running the campaign. The worst thing would be for a customer to attempt to redeem the discount, and have a sales associate look at them all cock-eyed. Keep everyone in the loop.
That's it! It's pretty simple, and depending on your audience, could be your best bet for attracting new customers and a boost in sales.
Here's to making money!

P.S. If you have any questions, give me a call and we can schedule a consultation so that we get it right the first time! 815-441-2219
Be sure to follow us on Facebook! We can't give you all of this sweet info and request nothing in return. It's going to cost you a click on the LIKE button 🙂 ~Andy #themarketingguy